Luz de advertencia LED Led direccional piloto (SL683)
Descripción del producto
Luminoso de advertencia luz Led direccional (SL683)
Specifications:
| | |
| --- | --- |
| MODEL:  | SL683 |
| FLASH PATTERNS:  | 15 kinds of flash patterns |
| LIGHT SYNC: | Yes |
| LIGHT SOURCE:  | 1W Gen-3 LED |
| MATERIAL:  | Aluminum base |
| LED COLOR:  | Red, Blue, Amber, White, Green  |
| LENS COLOR:  | Clear |
| INPUT VOLTAGE:  | DC 12V / 24V |
| POWER:  | 48W |
| OPERATING TEMPERATURE:  | -30° ~ +65° |
| DIMENSIONS:  | 720mm L*88mm W*59mm H |
| MOUNTING:  | Screw |
| CERTIFICATIONS:  | CE |
| WARRANTY:  | 1 year |
Description:
1. Utilizar tubos de 1w de LED importados como demanda.
2. Más brillante, de bajo consumo, largo tiempo de servicio.
3. 15 clases de patrón de destello.
4. Colores: Rojo, azul, verde, ámbar y blanco.
5. Uso de microchip especial control circuito.
6. Adoptando el enchufe del cigarrillo estandarizada internacional.
7. Conjunto de interior o al aire libre por stucker o tornillo.
8. Longitud diferentes a elegir.
Applications:
Engineering vehicles

excavator, dozer, road roller, bulldozer, crane and mining truck

Specialized vehicles

fire engine, police cars, rescue vehicle, communication vehicle, 

military command vehicle etc.

Off-Road vehicles

ATVs, SUV, truck, Forklift, trains, ship, bus, and tanks
competitiva ventaja:
Golddeer seguridad es profesional fabricante de emergencia vehículo ADVERTENCIA de luces y alarmas de advertencia
con más de experiencias 10 años. Todos los productos hechos por nosotros mismos con
estricto control de calidad. 
el asesor de tráfico está diseñado para ser utilizado como una luz de advertencia de interior o exterior. Se compone de bloques luz LED de alta intensidad para una señal de advertencia intensamente brillante. Juega un papel importante en la advertencia de la lluvia, niebla de
y peligroso estado y proteger su seguridad y su coche. Y no hay daño para peopen cuando it
se utiliza en días de lluvias. El asesor de tráfico puede ajustarse a cualquier situación de emergencia o situación del tráfico gracias 25 patrones de destello preprogramados renovadas.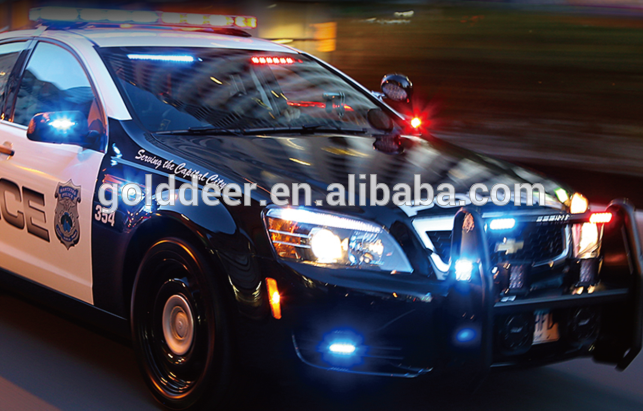 Grupos de Producto : Luces de advertencia LED > Director de tráfico luz